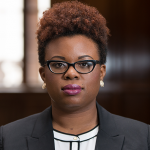 We're ready to meet your legal needs.
We Put Our Clients First
I am excited to be working at the Corbett Law Firm. My father, Augustus Corbett, started the firm and for now I will be the Law Clerk for the firm.  For now, I will handle most, if not, all of our interactions with clients. I will also be the primary blogger for the firm, and helping my brother with marketing.
Once I am licensed, I'll be handling primarily family law and personal injury. In law school, I worked as a student attorney in the family law clinic, where my love of family law grew and became my passion. Also, my personal experiences creating a desire in me to focus on family law.  I am struck with the immense impact that it can have on families and especially children.  I'll also be doing personal injury.
The Call for Justice Podcast
I am also the co-host of the Call for Justice podcast, a weekly discussion devoted to issues of racial, economic, educational, political and legal justice.